the history of champlain national bank
Champlain National Bank's history dates back to 1909 when Lake Champlain National Bank began operations in Westport, NY. The Champlain National Bank that exists today was formed in 1959 as the result of the merger between Essex County National Bank in Willsboro, NY (founded in 1921) and Lake Champlain National Bank. Additional branches were opened in 1961 in Elizabethtown, 1973 in Crown Point, 1987 in Keene, 1992 and 1999 in Plattsburgh, 1996 in Champlain, 2006 in Lake Placid, and 2017 in Saranac Lake.
In 1986 the Bank became a wholly owned subsidiary of Champlain Bank Corporation, which is owned by the former shareholders of the Bank. Most of the shareholders have close ties to the Bank's service area, which makes Champlain National Bank the only independent, community owned financial institution in Essex and Clinton counties.
Many artifacts from the bank's early days are on display at our Willsboro and Westport branches. Open to the public, these items show how people kept track of their money in the early 20th century and how they transacted on their bank accounts. Also on display are some of the tools tellers used in the early days of banking.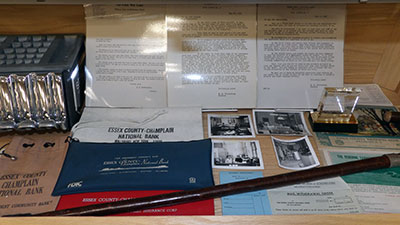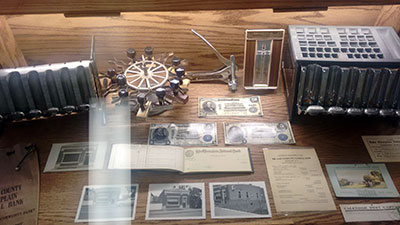 ---
why choose us?
We're certain you'll find our service amazing!
We believe that our clients are best served when decisions are made at the local level by people who understand our area's unique needs, rather than at a distant corporate headquarters. We have withstood the test of time due to our values and our commitment to providing the best service possible. Our clients and communities are extremely important to us and are the foundation of our strategic policies.
If you want to do business with a local bank that will know you by name, greet you with a smile, and appreciate your relationship, then Champlain National Bank is right for you!
---
learn more about our history and vision
---
one more thing
At Champlain National Bank, we really love dogs. We have a few dogs that hang out with us full-time, and many who visit us daily when their owners need to do some banking. We're told these furry visitors are big fans of the treats and pets we give out. In fact, we're pretty sure we're the most dog-friendly bank on the planet. If you have a great picture you want to share of your dog visiting one of our branches, please email it to us at info@champlainbank.com and you might just see it here or on social media. Woof!