ATMs are located at each of our branches, and you can even deposit cash and checks to your Champlain National Bank accounts using our ATMs in Willsboro, Elizabethtown, Plattsburgh, Lake Placid and Saranac Lake.
Plus, enjoy the convenience and freedom of having easy access to your money when and where you want, surcharge-free, at any Allpoint ATM when you use your Champlain National Bank Debit Card or ATM Card. With a network of more than 55,000 ATMs located in popular stores across the US, Canada and world, you're never far from accessing your cash. There's also an Allpoint Locator App to help you find the closest ATM to your location. We make it easy (and surcharge-free) for you to access your money, anywhere!
---
atm surcharge fees
An ATM Surcharge Fee is a fee the bank or owner of an ATM machine charges someone who is not a cardholder of the institution that owns the ATM. Surcharge Fees at ATMs vary greatly, but can cost upwards of $4.00. Champlain National Bank cardholders do not pay a surcharge fee at any Allpoint ATM or any ATM located at a Champlain National Bank branch.
Please note that this Surcharge Fee does not include the fee we may charge you for using an ATM not owned by us. Champlain Privilege and Champlain Benefit Checking account holders also get this fee waived, making their access at Allpoint ATMs truly fee-free!
---
using an allpoint atm
You don't need to do anything special to avoid paying the surcharge fee at an Allpoint ATM. The ATM machine will recognize your Champlain National Bank Debit or ATM Card is part of their network and not charge you the fee. However, you may be prompted to agree to a surcharge fee on certain Allpoint ATMs. Go ahead and choose "yes" to continue your ATM transaction. When you receive your receipt you'll notice you weren't charged. If you're ever accidently charged a surcharge at an Allpoint ATM, please contact us and we'll refund you the surcharge fee right away.
---
locating an allpoint atm
With more than 55,000 Allpoint ATMs worldwide, chances are there's one near wherever you plan to be! It's easy to find an Allpoint ATM. Use the Allpoint ATM Locator below, or download the Allpoint App, also found below, to your mobile device. You'll discover there are even Allpoint ATMs in Montreal making your cross-border travel a little easier!
---
questions?
If you have any questions, you can contact us by:
Visiting or calling your local branch
Emailing us at: info@champlainbank.com
Writing us at:
Champlain National Bank
3900 NYS Route 22
Willsboro, NY 12996
---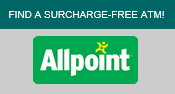 ---
---